How to search for your genes
Input keywords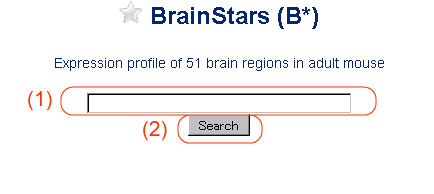 Figure 1. Search form.
You can see the search form (Figure 1) when you open the BrainStars database top page or push "search" tab on the top of any views. (1) Input keywords into the text box. You can search for entries with gene name, gene symbol, synonym, Entrez GeneID, and probe set ID. (2) Push "search" button for performing keyword search.
Search result list

Figure 2. Search result list.
After the keyword search is finished, you can see a list of matched entries with their probe set IDs, gene symbols, gene names, and gene categories if found (Figure 2). (1) If many entries were matched, the first 25 entries were shown. You can see other entries by the page navigtor. "«First": jump to the first page; "‹Prev": jump to the previous page; number: jump to the written page; "Next›": jump to the next page; "Last»": jump to the last page. (2) You can sort the matched entries by clicking a header in the table. When clicked, the matched entries were sorted by the clicked column in the ascendant order. If clicked again, the entries were sorted in the descendant order. (3) You can see detail of an matched entry. When clicking a probe set ID (e.g. "1433710_at"), the entry is shown on this screen. When clicking an icon (

), the entry is shown in another tab or window.
---
Go to the documents page